PRODUCT CATALOGUE PAFANA 07/2020.
PRODUCTION SERVICES PAGE NO. 439– FILE PDF. TO DOWNLOAD (0,5 MB.)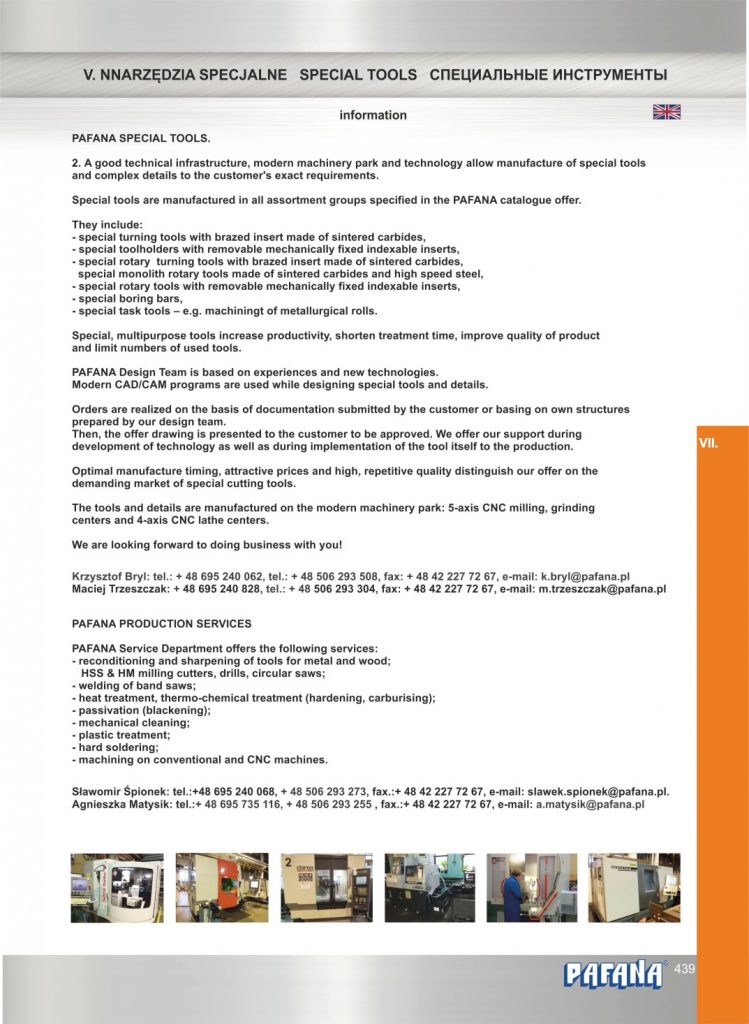 PAFANA PRODUCTION SERVICES OF PAFANA.
Dział Usług PAFANA oferuje usługi w zakresie:
– regeneracja i ostrzenie narzędzi do metali i drewna: frezy, wiertła z HSS i HM, piły tarczowe;
– zgrzewania pił taśmowych;
PAFANA Service Department offers the following services:
– reconditioning and sharpening of tools for metal and wood;
HSS & HM milling cutters, drills, circular saws;
– welding of band saws;
– heat treatment, thermo-chemical treatment (hardening, carburising);
– passivation (blackening);
– mechanical cleaning;
– plastic treatment;
– hard soldering;
– machining on conventional and CNC machines.
We invite you to cooperation:
Sławomir Śpionek: tel.: + 48 695 240 068, + 48 506 293 273, fax.: + 48 42 227 72 67, e-mail: slawek.spionek@pafana.pl
Agnieszka Matysik: tel.+ 48 695 735 116, + 48 506 293 255 , fax.: + 48 42 227 72 67, e-mail: a.matysik@pafana.pl